Each year in the 12th month of the Islamic calendar, Muslims in America and around the world begin observing activities associated with the annual Hajj, or pilgrimage to Mecca. Hajj is one of the "five pillars" of the Islamic faith. (The other "pillars" include a declaration of faith, daily prayers, offering regular charity, and fasting during the month of Ramadan.) Hajj activities take place during six days (8th-13th) of the Islamic lunar month of Dhul-Hijjah. Pilgrimage is a once-in-a-lifetime obligation for those Muslims who have the physical and financial ability to undertake the journey. It is also a form of worship that involves the entire being: body, mind and soul.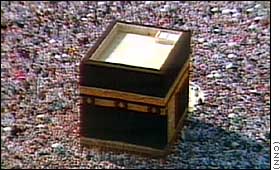 "Thus We settled Abraham at the site of the House (the Ka'aba) [saying]: 'Do not associate anything with Me, and purify My house for those who walk around it, and those who stand there (praying), and those who bow down on their knees in worship. Proclaim the pilgrimage among mankind: they will come to you on foot and on every lean (beast of burden); Let them come from every deep ravine, to bear witness to the advantages they have, and to mention God's name on appointed days..." The Holy Quran, Chapter 22, verses 26-28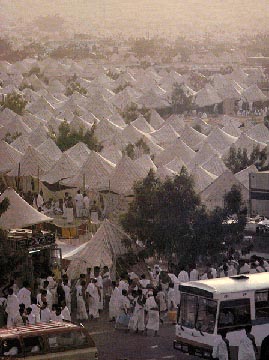 Photo: More than two million pilgrims gather each year to perform Hajj.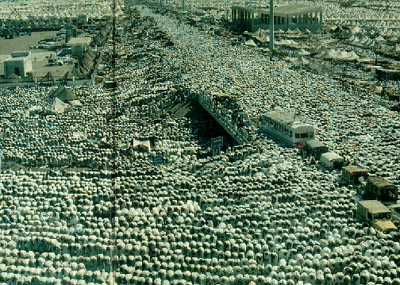 Photo: Bowing in submission to God, thousands of pilgrims pray on a street at 'Arafat.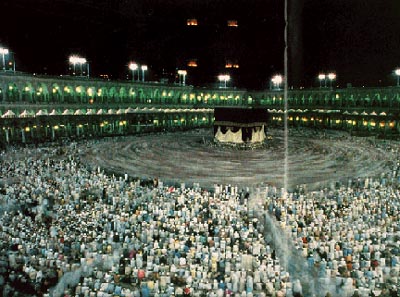 Photo: In the tawaf, pilgrims circle the Ka'bah seven times, reciting a prayer during each circuit.
(The above three pictures were taken from: http://www.islamicity.com/mosque/jlthajj/LifeTimeJourney.shtml )
Talbiyah

(real audio) - a prayer as well as an assertion of the pilgrim's conviction that he intends to perform Hajj only for the glory of God. It is recited frequently during the Hajj.
"Labbaik Allahumma Labbaik. Labbaik, La Shareek Laka, Labbaik. Innal Hamdah, Wan Nematah, Laka wal Mulk, La Shareek Laka"
"Here I am at Thy service O Lord, here I am. Here I am at Thy service and Thou hast no partners. Thine alone is All Praise and All Bounty, and Thine alone is The Sovereignty. Thou hast no partners."